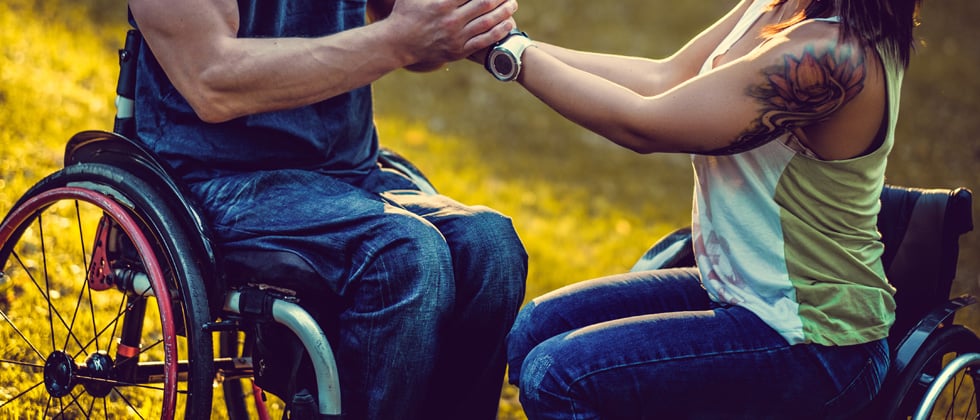 Dating with disabilities: Why eharmony is your access to real love
Dating can be an adventure at the best of times, and dating with disabilities, even more so. From concerns about accessible date venues to having to deal with potential dates who – despite good intentions – may put their foot in it, dating as a disabled person comes with its own obstacles. Dating sites for people with disabilities are one option, but more general sites and dating pioneers like eharmony can be a good choice, as we aim for real love and compatibility.
3 challenges of dating with a disabilities
1. Missing accessibility as a core issue
It's quite a pity but it already starts with the architecture of buildings. Most buildings aren't set up for people with disabilities. From doors to small to drive a wheelchair through, to ramps you'd have to be an Olympic athlete to climb, to a lack of Braille menus or assistive captioning. Dating with disabilities can sometimes feel like being that one kid in a cast looking sadly at the other kids all having fun on the playground.
2. Ableism is constant, and exhausting
Every disabled person has heard comments along this vein: "You're going to be fine soon, right?", "Stop making such a big deal of things!" or even "You're just faking it." While the physical and emotional challenges of disability are often exhausting in and of themselves, ableism – discrimination in favor of able-bodied people – can make dealing with them even harder. Ableism can range from everything from statements born out of ignorance to well-intentioned attempts at coddling the disabled person rather than trusting them to know their own limits to more outright harmful behavior, like not acknowledging their limits or even abuse.
3. The stereotypes are insidious
People thinking your significant other is your carer. Being spoken to like it's your brain that doesn't work when it's just your legs that don't. Being lauded as an 'inspiration' for daring to exist as a disabled person (barf) – these experiences are sadly all too common, not helped by the media portrayal of disabled people, or the general perception of people with disabilities, which can also make dating as disabled people challenging.
5 Tips for successful dating with disabilities
Plan: Be proactive about finding ways to work around your disability, if you're worried about it interfering. Have a couple of go-to places that you know are accessible. You can even call ahead and ask for accommodations if that will lessen your anxiety.
Be yourself: You might be tempted to hide your disability, especially when it comes to online dating. Don't. Anyone worth being in a relationship with will be accepting of you. Be upfront, either in your profile, or on the first date – it's a good way to weed out who just isn't worth it.
Watch for red flags: While it's normal to want to believe the best of people, especially at the start of a relationship, it's also important to keep an eye out for any red flags. Does your partner walk faster than you and expect you to keep up? Show no interest in learning about your condition or making accommodations? Are they overly concerned about appearances? Time to leave such people behind.
It probably is them, not you: It's tempting to blame every rejection on your disability, but that's simply not true. Relationships don't work for many reasons, not just because one partner is disabled. Therefore, it's important to try and remember that rather than blaming yourself.
Don't settle: Most importantly, remember that you are a wonderful, awesome person who is inherently deserving of love. Your disability doesn't define your worth – don't settle for anything less than you deserve.
How eharmony makes the road to finding love smooth
While there exist several dating sites for people with disabilities, eharmony is a great option for anyone looking to expand their dating pool beyond that, with features that work specifically for dating with disabilities. Here are five reasons why you should choose eharmony if you're looking to date as a disabled person:
Compatibility Matching
Profile Information
Search Criteria/Filters
Video Dates
High Security Standards
1. Compatibility Matching
Helping you find real, lasting love is at the center of our mission. We believe in helping you find a serious relationship with a compatible partner. That's why every new member takes eharmony's Compatibility Quiz. Based on your answers our Compatibility Matching System does its magic to find you compatible Matches and proposes them in your Match list. As a result of this you just find like-minded others that suit to your interests, values and personality.
2. Profile Information
Dating profiles are detailed, with plenty of information about the member. The "About Me" section lets you include an in-depth description of yourself, as well as details about your hobbies, interests, and so on. There are even question prompts members can answer, which not only offer additional insight into their personalities, but make for great conversation starters, too.
3. Search criteria and filters
You can use the site's detailed search criteria and filters to narrow down the list of suggestions offered to you, based on your preferences and core values. Eharmony offers, among others, a 'geography' filter so you can choose where the people you'd like to date are from, as well as a 'distance' in case you're not keen on dating someone who lives far away. You can also filter your matches based on sports, music, and outdoor activity, or select matches based on whether (or not) they drink or smoke.
4. Video Dates
When it comes to dating with disabilities, offline dating can be challenging because of accessibility – simply finding one to begin with, then the time and energy required to get there. With eharmony's in-app video dating feature, there's no need to worry about any of that. You can get to know your date better in the comfort and security of your own home, without having to deal with the unromantic specter of a world that's often hostile to people with disabilities.
5. High security standards
eharmony is a great choice for dating with disabilities. Several key features are restricted to paid members, including the ability to see anything other than profile photos. Additionally, singles on our platform are committed to finding a serious, long-term relationship. So, when you're on eharmony, you have the confidence of knowing that people are there to find someone special.
Fall in love with someone who deserves you and loves the real you
Dating with disabilities does come with its ups and downs, but that doesn't mean that the search for a relationship is a futile one, or that the journey there can't be interesting and fun. The important thing is to keep an open mind and put yourself out there. eharmony, with its large pool of relationship-minded singles and its tools that make dating easier, is a great choice when it comes to dating sites for people with disabilities. So, sign up for eharmony and get started on your relationship journey today!
How it works
Your search for a great relationship has never been easier with groundbreaking overhaul of the eharmony you know and trust.