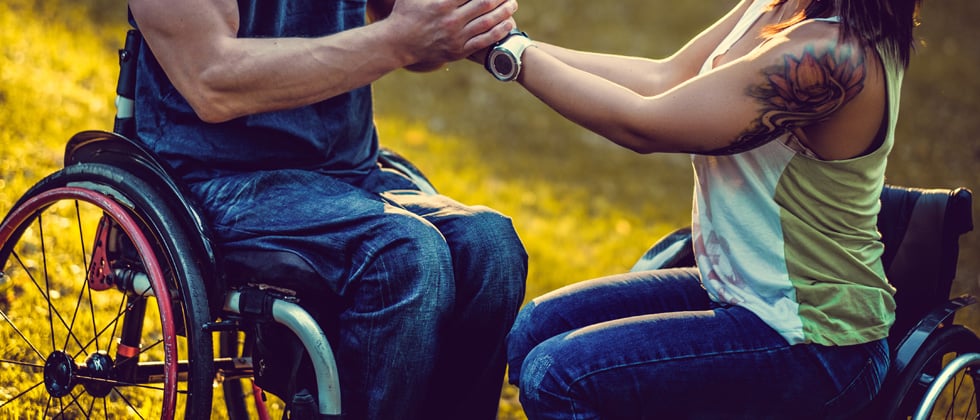 Dating with Disabilities: A Contemporary Take
Modern dating can often feel like one of life's trials rather than its joys. This can be particularly true for some people dating with disabilities, adding distinct obstacles in an already well-laden steeplechase for romantic contentment.
However, few of them are insurmountable and even more are erected by our imagination. So, let's take a general look at modern life for disabled singles dating – as disabled covers an incredibly wide range of conditions, each providing their own challenges – and, hopefully, share some useful advice for how you can overcome and thrive in your dating life.
Some quick facts about disabled singles dating in the US
First, let's take a look at some key facts and misconceptions about dating with disabilities:
Latest data from the U.S. Department of Health & Human Services holds that 27% of adults in the U.S. have some type of disability. This covers six types of difficulties: mobility, independent living, hearing, vision, self-care and cognition (the most common among adults)1.
Despite this, people with physical disabilities report higher rates of experiencing a first marriage before 32, at 53%, than those without disabilities, at 50%, according to a study2.
Disabled women are more likely to have an enduring marriage according to a Baylor College of Medicine study3.
Dating sites especially designed for people with disabilities and conventional dating apps both are becoming increasingly popular amongst disabled singles.
Many cite their disability benefits being affected as a reason for being single but the leading one for women is having not found the right person yet, regardless of disability status4.
Common challenges for people dating with disabilities
Here are some of the challenges people with disabilities may face in their dating life, either due to modern dating culture or their specific conditions, and some thoughts on how to overcome them.
Accessibility – Many venues for socializing aren't designed to host disabled people. So make sure to call ahead to make sure there are allowances for your condition.
Ableism and stereotypes – A lot of people who meet disabled singles don't grasp the full scope of disabilities and can react unfavorably with discrimination or, conversely, a well-intended but patronizing over-focus on it. Try to be open and communicative with people when you run into passive discrimination and let people know if something they did or said bothered you. But in the end, t's also important to know your worth and listen to how you are doing: You don't have to endure or explain everything and it's absolutely fine to end things at a certain point.
Disclosure – As a single with a disability meeting other singles online you often might not know when to disclose your disability, particularly if it isn't visible. A general good rule of thumb for online dating is transparency because, at the end of the day, you don't want people feeling deceived when you do meet.
Misconceptions – People often don't understand the full spectrum of abilities and limitations of some conditions, leading them to rather avoid dating disabled people than learning. Try to be patient with the process. Everyone has dating challenges they have to face; the key is persistence. The right person will come along at some point.
Self-esteem – Many people dating with disabilities often remove themselves from the dating pool due to self-confidence issues. This becomes self-fulfilling as they stop being exposed to any dating opportunities. Dating can sometimes be a hassle for most of us. But the key, if you're interested in finding someone, is always to keep yourself out there. Success in dating is often a number's game.
General tips for disabled dating
Regular dating tips still apply. This includes making sure you text regularly, keeping the conversation going both online and in real life and planning out your first date properly. But let's look at some more specific advice for dating in real life and on dating sites for disabled people as well as other apps:
Be confident – Remember that everyone has their own obstacles and limitations. No one is bringing perfection to the table, so focus on what you do bring.
Disclose early on – When you resist disclosing your condition, you're also resisting forming a full and authentic connection with the other person. The people who would reject you for your condition are worth your time and emotional investment anyway. Interestingly, one online dating user in a study found that disclosing his condition on his profile resulted in an uptake of attention and connections6.
Be yourself – Rather than looking at presenting your disability on your profile as scaring off eligible singles, think of it as filtering out people not worth your time and attention.
Be comfortable with rejection – It's a universal human experience for anyone who has ever dated. It's okay if it hurts but it should never discourage you.
Be certain of your worth – Never feel compelled to accept less. Don't ignore your standards or red flags for the sake of companionship. Dating requires patience.
Be available – You have to get out there if you hope to meet people. Explore your potential online, find accessible group activities and try to find time to take part in local nightlife.
Unique date ideas for disabled singles
Here are some interesting and distinct date ideas. We've kept them general so you'll need to still check accessibility accommodations with venues beforehand:
Picnics – Plan a short scenic hike to the picnic location or just drive right up to a nice spot with a view that's already set up with tables.
Museums and art galleries – A feast for the eyes is right up most people's alley. Most larger venues also have great accessibility features.
Concerts in the park – These tend to be less densely crowded – offering greater freedom of movement – and let you explore other activities nearby.
Arcade bars – Combines the fun of sipping on cocktails and rediscovering those arcade games of childhood.
Sports matches – These events take some of the pressure off of making conversation and cheering for the same team makes for quick bonding.
How eharmony helps singles dating with disabilities thrive
If you're looking to meet disabled singles who share your condition because you find them easier to relate to or want to explore other dating opportunities outside of dating sites for disabled people specifically, eharmony can help.
Some of our features that are useful to singles regardless of disability status:
A Compatibility Matching System built on psychology, data and over 20 years of industry-leading expertise, which leads to deeper, more authentic connections online
A very large and diverse pool of members almost everywhere in the world.
Filters and search criteria that let you sort through a personalized list of highly compatible singles based on what's important to you in a partner.
Profiles that let you concisely and engagingly tell the story of you beyond your disability. The profiles you're matched with will also explain what you have in common and the significance of your Compatibility Score.
A range of communication features that offer new ways to break the ice and foster a connection.
Security and safety standards that have seen us consistently rated as one of the most trusted dating apps in the world.
The best part about using eharmony is you get to enjoy the thrill of dating from anywhere, on your schedule.
The right outlook and approach are key
We're not going to claim that modern technology or our specialized services have solved all the various difficulties for people dating with disabilities. And depending on your condition, you may only identify with a few of the obstacles we've mentioned or find that you may need a little more specific support and guidance to personally realize a happy and fruitful dating life, something we emphatically suggest you do explore if it's what you want.
What we will say is that life is achievable for almost anyone. All it takes is the right resources and mindset. Finding lasting love is all about persistence, patience and being open to the moment when it does arrive. We can only provide support for the first two, but we specialize in creating those genuine moments. Start finding them today. Join eharmony.
How it works
Your search for a great relationship has never been easier with groundbreaking overhaul of the eharmony you know and trust.