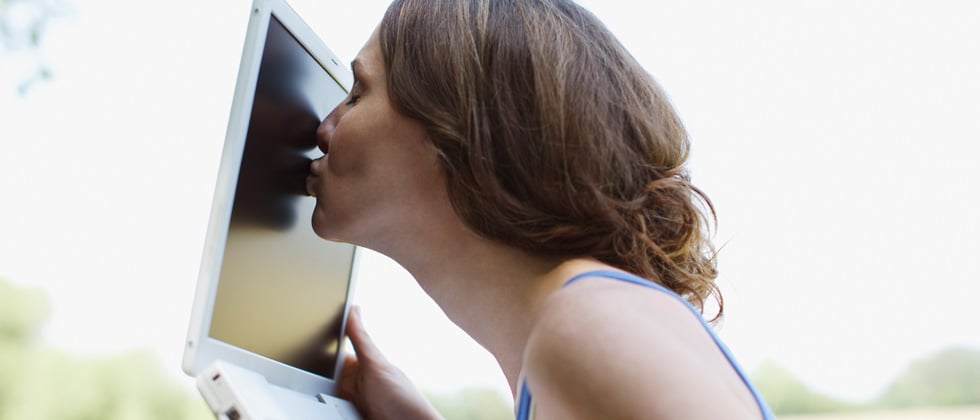 Dating Online: 6 Email Do's and Don'ts
For newcomers to online dating, those first few emails can be a daunting prospect. Find out what works and what to avoid at all costs.
There's a fine line between underselling yourself and blowing your own trumpet when it comes to dating online. When trying to spark someone's interest over email, you've got to be fun, engaging and good at creating a rapport, while keeping an element of mystery. But nobody likes a bragger. So how do you maintain this delicate balance?
Follow these dos and don'ts gleaned from thousands of couples matched by eHarmony and move from online relationship to the real deal.

Do: be proactive
Don't let that classic British reserve hold you back. Accept that dating online will involve some chasing. If you find someone who catches your eye, send an icebreaker or a friendly email. You won't get anywhere if don't put yourself out there.
If you're match isn't interested, they either won't respond or will send you a polite 'Thanks, but no thanks.' You can't take it too personally – she or he hasn't met you in the flesh! It's part of the process. Your job is to recover quickly, and move on.
Don't: reveal too much too quickly
Nobody wants to trawl through an essay on your life, either in your profile or via those early emails. The key is to be open and friendly while still maintaining a bit of mystery.
Share enough to excite and intrigue your potential match, while leaving them wanting more. Follow this rule of thumb: keep profile answers concise and fun. When replying to a match via email, use two-to-three-sentence responses. If in doubt, it helps to draft an email, walk away and return an hour later to review it, edit it and, when satisfied, hit send. This will halt any tendency towards verbal diarrhea and keep your match on their toes.
Once you've caught their interest you can afford to be a bit more creative. Ask thought-provoking questions that will reveal insightful traits. Take the experience of Paul who met his fiancée Stephanie through eHarmony. "The more I read her responses to my questions it was like she was reading my mind!" he explains. "Within 2 days, we exchanged phone numbers." Just a few simple sentences can stop someone in their tracks.
Do: be honest about yourself
It might be tempting to knock a few years off your age or exaggerate your income when but you're far more likely to achieve dating success online if you're open about who you really are. "I recommend eHarmony to all my single friends, but caution them to be completely honest about themselves and the person they are looking for," says Lynn, who met her husband Roger on the site. By confidently celebrating who you are, you'll attract matches that will respect you, warts and all.
Expect the same in return from anyone you meet when dating online. If you catch someone in a lie, don't let it slide. Call the person out on it, report his or her behaviour if it's detrimental to anyone else, and move on quickly.
Don't: lead someone on
If you're not keen, make it tactfully clear as soon as possible. Never lead someone on. If someone contacts you and you're not interested, be respectful enough to send a short and thoughtful rejection. A considerate "no" is preferable to a thumb-twiddling non-response that leaves the other person feeling they must have done something wrong.
Do: meet up in person ASAP
A potential pitfall of dating online is that people can get lulled into a passive email exchange that lasts for months rather than actually pursuing a date. The danger of this is that you can become emotionally invested in a potential match, only to discover that when you meet in person, the spark isn't there. Don't let that happen.
Once a connection is clear, it's time to take your online dating into reality, even if you have to initiate things. To ease anxiety about a first face-to-face date, keep things simple. Choose a coffee date rather than dinner or drinks. That way, if things go well, you can look forward to your second date. And if there's nothing between you, you've only lost a small amount of time and a few pounds from your wallet.

Don't: endanger your safety
Your safety should be your top priority when it comes to dating, especially online dating. Never tell anyone personally identifying information like your bank account number. And don't meet a complete stranger at a remote location by yourself. Trust your instincts. If someone seems too good to be true in email, that person probably is. Instead, keep looking for new matches