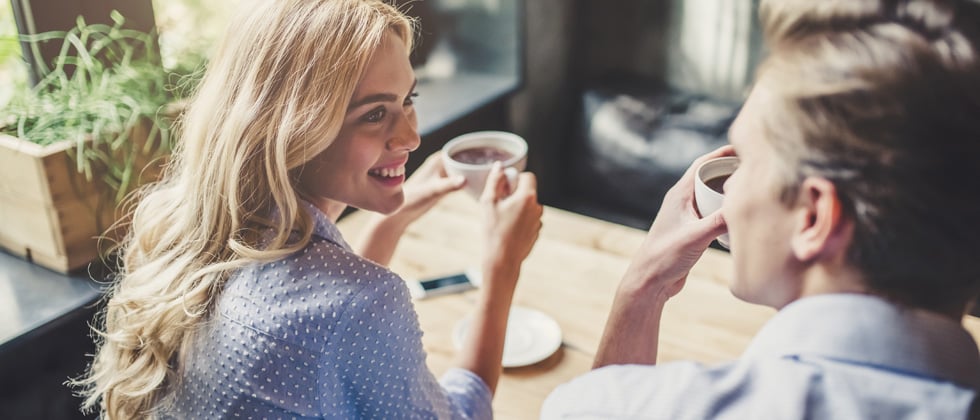 How to Impress a Man: 10 Strategies to Shine Off and Online
You're an awesome person – you know it, your friends know it, your boss knows it… so why don't guys seem to be getting the hint? Despite how many dates you've been on, none of them seem to go anywhere. It's not that you aren't impressive – it's that you don't know how to impress a man. Luckily, when it comes to how to win a guy over, there are several things you can do, both online and off, to attract a man.
How to impress a man on the internet
While online dating is very much a different beast than the traditional way, there are still several things you can do when it comes to how to impress a man. Some of the ways to a man's heart:
Lead with something interesting
Seriously. How many times have you seen a dating app message notification pop up, only for it to be the deeply original and inspiring 'Hi' or 'Hey'? While you don't want to get too personal right off the bat (save religion, politics, and similarly controversial topics for after you've at least introduced yourselves) a fun, personal question in your first online dating message can help you stand out from the crowd.
Cyber-stalk him… just a little.
Oh, we're not suggesting you go full detective mode. But a quick check of his (public!) social media is a great way to get a sneak peek into what he's interested in… and turn it to your advantage. When it comes to how to impress him, asking about his interests is a great way to show you're paying attention.
Leave him wanting more
The advantage of online dating is that it gives you time and space to draft a response, as well as the possibility of keeping conversations going forever. While an endless chat thread seems like a good thing, it's not how to win a guy over. Especially, if he sees you're jumping to answer his 2:00 AM texts. While playing hard to get can backfire, making a man wait shows him you're an independent and that you don't need to hang on someone's every word.
How to impress a man in real life
While some of the same online dating tips apply, how to impress a man in the real world, or on a first date, requires something different. Our suggestions for how to win someone over:
Be yourself
Some articles on how to impress a man will tell you to do this or that. At the end of the day, the right man will be impressed by your authentic self. And it's much better to be who you are right from the start rather than be stuck pretending to be someone you aren't.
Wear something red
On a more superficial note, it's been proven that red is the best color to wear on a first date – not only is red the color of love, it's a bold, captivating choice that's sure to make you memorable. In addition, men are visual creatures, and a bold splash of color is definitely one of the best ways to a man's heart.
Be independent
While the damsel in distress is a fairy tale and Hollywood staple, in real life, being independent is how to win a guy over. While some guys might like the ego boost of someone hanging on their every word, men worth dating will be far more attracted to a person who's got their ish together. Show him you have your own life and interests and make it clear that he needs to be worth your time before he can have it.
Allow yourself to be vulnerable
Being independent doesn't mean you have to be strong all the time. In fact, if you're wondering how to impress a man, letting your guard down a little and showing your softer side is one way to do so. Admitting you're terrible at cooking or that you're afraid of heights lets him know you trust him, which gives him room to be vulnerable with you too.
Be optimistic
Nobody likes to be around negativity. Especially on the first date, when you're both supposed to be showing each other your best selves, resist the temptation to be cynical, even if that's your default state. A snarky observation or two is one thing, but a constant litany of negativity is certainly not how to impress a man.
Be willing to laugh at yourself
While you should always take yourself seriously, there's such a thing as taking yourself too seriously. Human beings are imperfect by nature and laughing at yourself is an easy way to impress someone. Guys love it when the person they're interested in can laugh at themself – it shows them that they have a sense of humor about the world.
Fake it till you make it
Even if you're pretty sure you know how to win a guy over, actually doing it can feel pretty daunting. That's when you should just take a deep breath, ignore the imposter syndrome, and forge full steam ahead – eventually, your fake feelings will be undistinguishable from the real deal, and you'll have wowed him with how confident you are.
How to impress a man? Positivity and self-confidence will pay out
The key – and what this article can be condensed into – is confidence. There's no doubt you will impress a man, because you are impressive. That said, knowing is one thing, letting a man see is another – but it gets easier with practice. And with eharmony's diverse dating pool and comprehensive Compatibility Matching System, you'll have a great chance to try it with compatible singles!
How it works
Your search for a great relationship has never been easier with groundbreaking overhaul of the eharmony you know and trust.