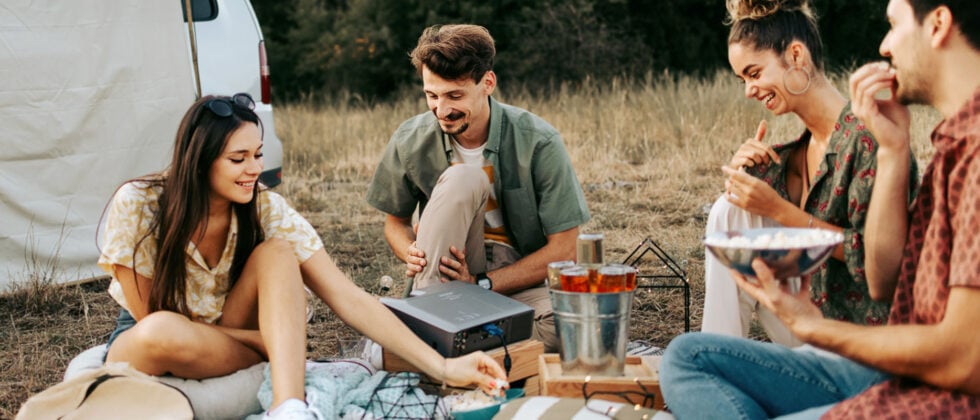 Twenty Double Date Ideas for Twice The Magic
A double date is just that – two couples doing an activity together. Generally, it's two established couples who are friends with each other. Some people aren't fans – they think that more people mean less romance – but a properly planned and well executed double date can mean good things both for your relationship and the friendship. In this article, we'll talk about how to set you and your significant other up for double date success, plus offer you twenty double date ideas to inspire you.
Are double dates good for relationships?
Science says they are! A 2014 study says that double dates may be more effective at rekindling the passion in romance than activities done by the couple alone1. Plus, double dates give you and your partner the opportunity to step away from your normal routine, not to mention they're a great way to get to know your partner – you know their friends will have the best stories!
Rules for a double date
In order for a double date to work, though, there are some ground rules you need to follow, like:
Choosing the other couple carefully to minimize awkwardness.
Resisting the urge to make things a competition.
Keeping the PDA to a minimum (or at least at the same level).
Avoiding disagreements or fights with your partner
Picking an activity everyone can enjoy.
Fun and exciting double date ideas
What you do on a double date is the key to how successful it is. Some fun double date ideas:
Have a dinner together: Go to a restaurant that serves small plates and pick several to share amongst the four of you. Or try a cuisine none of you have eaten before.
Trivia night: Go to a restaurant that serves small plates and pick several to share amongst the four of you. Or try a cuisine none of you have eaten before.
Spend the day at the museum: Regardless of where you live, there's probably a museum of some kind in easy driving distance. Spend the day broadening your horizons or learning obscure facts.
Take a class: Learning doesn't stop just because you're no longer in school. Take a pottery class, learn a new language, or even sign up for dance classes.
Go to an amusement park: Even if you're not a rollercoaster fan, spending the day at an amusement park is a fun double date.
Go wine tasting: Sure, you could go for beers, but there's something so classy and romantic about sitting down to discuss the merits of different vintages.
Sign up for an escampe room: Escape rooms are becoming more and more popular for a reason – they're a great way to get your brain working and your adrenaline pumping.
Head to a karaoke bar: Music is supposed to be the food of love, after all. Plus, singing together is a great way to deepen bonds.
Road trip to a concert: Make a day of it by driving together, music blasting all the way – it's a great way to extend the time you spend together and pump yourself up for the event.
Have a lazy Sunday brunch: A long, leisurely Sunday brunch is a classic – put a romantic twist on it by sharing it with another couple. Mimosas make everything better, after all.
Cheap double date ideas
Sometimes, the spirit is willing, but the pockets aren't quite deep enough. We've got you covered with cheap double date ideas at home and elsewhere.
Make a homemade meal together: Cooking at home is way cheaper than going out… and as a bonus, it's time you can spend with each other.
Play board games: There is an unless number board games, both cooperative and competitive, for four… bust some out for a fun double date.
Volunter: There are always things you can do to make the world around you a better place… why not make a double date of it?
Spend the day at the beach: Sunbathing, playing in the surf, building sandcastles together… there's plenty of fun things to do on a beach double date.
Host a backyard BBQ for four: Have an al fresco date night with good foodon the grill and even better company.
Go for hike: Exploring the great outdoors together makes for a fun, adventurous double date.
Hit a local flea market: Who knows what treasures (or oddities) you'll find?
Keep it cool with an ice cream date: For when you want something quick and refreshing.
Watch a game: Football, basketball, baseball can all make for fun double dates. (Just make sure you're all fans of the same team).
Play tourists in your own town: Exploring your neighborhood or even a local attraction together is an easy, low-cost double date.
Double dates can be double the fun
While double dates aren't for everyone, in the right circumstances, a double date can not only put a spark in your relationship, but it can also help you improve your friendships with other couples. Of course, this all depends on finding couples with similar tastes and values to you and your partner. At eharmony, we help our users find lasting love with people who want the same things they do. If that sounds like the kind of relationship you want, sign up for eharmony today.
How it works
Your search for a great relationship has never been easier with groundbreaking overhaul of the eharmony you know and trust.