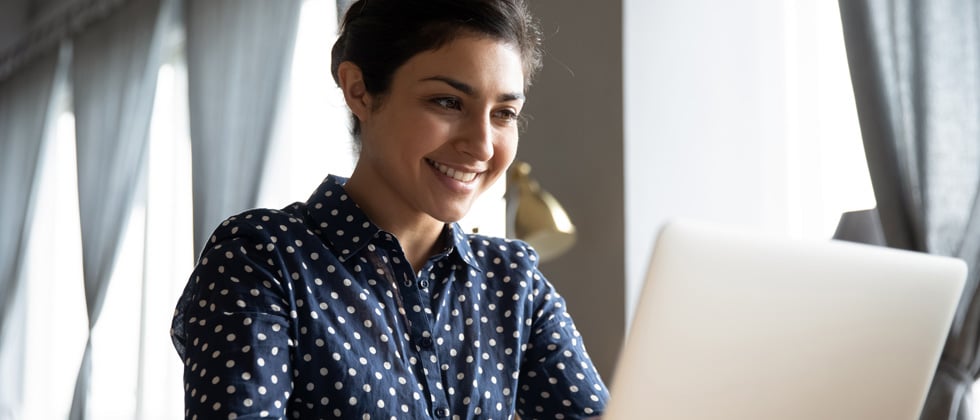 Best Dating Profile Headlines: How to write a successful title
You've made the decision to try online dating and it's time to start creating your profile. When you start building your dating profile, you'll notice some space for a "headline." The headline section of your dating profile is similar to the title in a news article or blog post. Think about the posts that stand out to you when you're scrolling through Facebook or Twitter. The posts with the most intriguing headlines are likely the ones you'll click on and read. Online dating works in a similar fashion.
When it comes to your dating profile, your headline is likely the first thing someone will read on your profile. That being said, if you want to find your perfect match, you want to create a statement that is eye-catching. Think of it as the first impression for showcasing your personality – your headline (combined with an interest in your photo) will be the first glimpses of your personality that make someone want to connect with you.
Need some help creating a good headline for a dating site? We've put together a list of some of the best headlines online dating users are finding success with and give you some useful tips to bear in mind.
"YOU'LL NEVER BELIEVE WHY I MOVED TO ___."
Fill in the blank with your current location and you've got yourself a pretty intriguing headline. This is a great statement to use if you recently moved to a new city because it immediately opens up the conversation. This dating profile headline tells users you're new in town, or have a good story to tell. Plus, it creates a bit of mystery about you and the people who want to know more about you will reach out!
"SEEKING SOMEONE TO DO ___ WITH."
This is a great headline for your dating profile because it tells people what you are looking for and the type of person you want to spend your time with. If you're looking for a relationship, you can say "seeking a partner to do ___ with" or simply say "seeking a friend to have coffee with" if you're only using the site for friendship. By adding an activity, you're immediately mentioning one of your hobbies which will be eye catching to someone with shared interests. Plus, if things go well, you've already got a first date idea!
"WILLING TO LIE ABOUT HOW WE MET."
If you can come up with a funny online dating headline, you should use it in your profile. International research by eharmony UK found that both men and women are more likely to be attracted to people who describe themselves as funny. Not everyone will laugh at your jokes, but the ones who do are bound to get in touch with you! If you can make someone laugh, you've already made a good first impression, so a silly formulation could turn out to be the smart move.
"I AM SWEET, AMBITIOUS AND THOUGHTFUL."
If you want the absolute best dating profile headline, use these three words to describe your attributes (if they are true, that is). Why? Well, when eharmony U.K. analyzed over 12,000 profiles in 2014, they discovered that female profiles that included the words "sweet, ambitious and thoughtful," saw between 20 to 45 percent more approaches1. For men, the three most attractive words you can use to describe yourself are: physically fit, ambitious, and perceptive.
"I SOLEMNLY SWEAR THAT I AM UP TO NO GOOD."
Don't be shy – get a little creative with your headline! Use a quote or song lyric from one of your favorite books (like this Harry Potter reference) or bands and you're bound to get a response from someone who catches and loves the reference. Creative dating profile headlines are always eye catching and the right person will appreciate the effort!
"LOOKING FOR MY NETFLIX & CHILL."
This can work as both a bold or funny dating profile headline. If you're just looking for a fling or something with no strings attached, this is a fun, easy way to put it out there. Who knows, maybe enjoying each other's company while watching TV will turn into more than you set out for! This phrase has become a part of our modern culture, so it's a pretty fun (albeit obvious) one to use for your dating profile. But, you could earn bonus points if you say what TV show you want to binge watch – that way you find someone who has similar interests!
"I HAVE AN MBA, LOVE TACOS, AND AM LOOKING FOR SOMEONE TO PLAY VIDEO GAMES WITH."
A study conducted by scientists from Barts, the London School of Medicine, and The University of North Texas, discovered that the best ratio for online dating profile headlines is to include a 70:30 ratio of what you are like to what you want2. Plus, by using your headline to reveal some pieces about yourself, you'll draw the attention of the type of person you're looking for.
How it works
Your search for a great relationship has never been easier with groundbreaking overhaul of the eharmony you know and trust.