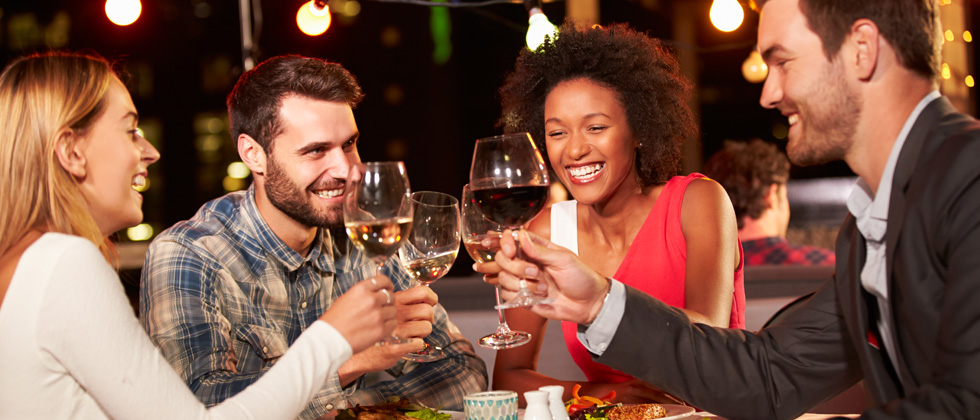 Your Guide to the Best Double Date
Double dating can be a valuable resource in the savvy single's dating arsenal. Here are five easy tips to ensure your next double date is a success.
Double dating – archeological relationship relic or fabulous modern-day dating tool? Contrary to what you might think, double dating can be a valuable resource in the savvy single's dating arsenal. After all, the merits are many. They can help create a comfortable environment for shy singles to get to know one another. They can help you find committed couples whose relationships you'd like to eventually emulate. Or they can just be an opportunity to connect with people you both enjoy.
Here are a few tips to help make your next double date a smashing success:
Tip #1: Choose Your Couple Wisely
While double dating can be a lot of fun, it's important to choose the couple you double date with wisely. For example, you won't want to choose a couple known for being competitive (you know the ones!) After all, a night of one-up-manship is both tedious and tacky.
Instead, select a couple whose relationship you admire. Perhaps even one you'd like to emulate in your own. Or choose a couple whose individual company you both enjoy.
By spending time around people whose relationships are healthy and happy, you're all the more likely to mirror that behavior in your own relationship. Plus, happy individuals make for happy couples. And happy couples are so much more fun to be around than dysfunctional ones!
Tip #2: Choose a Group-Friendly Activity
When double dating, it's important to choose a group-friendly activity, i.e. one that engages the entire group in conversation and allows for interaction. For example, a movie is not the best group activity since the focus is not on each other but on an external source of entertainment.
However, dinner and a movie can be a fantastic double date because it allows you time to talk and share as well as time to enjoy the entertainment.
Other great group activities include bowling, taking a cooking or dance class, and/or going on a picnic in the park. Regardless of what activity you select, make sure it's in an environment that doesn't compete with the evening's entertainment or require you to have to shout to be heard.
Tip #3: Engage Everyone in Conversation
While the ritual of dating is all about getting to know the person you're on a date with, the purpose of a double date is to create a fun group dynamic. Therefore, it's important to engage everyone on the date in conversation. This can be particularly challenging if the majority of the group shares a mutual interest or activity (i.e. if you're coworkers, in the same profession, or belong to a particular club or association) while one member does not.
The best way to avoid alienating one member of the group in these situations is to mix up the conversation. Don't make it only about your common interest. And be sure to ask lots of questions of the person who could potentially be the outsider. By including everyone in the date, a good time is had by all (and you look like a superstar!)
Tip #4: Engage in Proper Dating Behavior
People build intimacy at different rates depending on their comfort level. Therefore, on a double date it's especially important to be sensitive to that and not overstep someone else's comfort level in favor of your own. The following are a few guidelines to help you navigate this tricky double dating terrain:
Keep your boundaries intact: Don't share personal information that would make anyone on the date uncomfortable, i.e. divulging private details shared in confidence.
Don't engage in too much PDA: Remember, this is a double date. Passionate kissing and/or caressing should be saved for appropriate private moments after the date.
Don't flirt with the other couple: While it's important to engage everyone on the date in conversation, it's NOT appropriate to overtly flirt with the other people on the date. First of all, it's inconsiderate to your date. Plus, it can alienate the other couple. And third, it's just plain rude!
Tip #5: Just Have Fun
When double dating, it's important to remember that the date itself is not a measure of your relationship as a whole. Rather, it's one night out of your entire life. Translation: don't stress. Instead, have fun! Use this experience as a way to mix up your usual dating rituals. Get to know the other couple. Enjoy getting to know your significant other in the context of a group activity. Just be yourself, so the others can get to know you — fabulous you! — as well. And if for some reason the double date goes sour, consider it a lesson learned and move on.
Ultimately, the purpose of the double date varies depending on where you are in the course of your relationship. If you're just getting to know someone, a double date can be a terrific way to find out more about that person in a safe and comfortable group environment. It can also be a great way to introduce your date to your friends (and vice versa), as well as provide a mirror of the kind of relationship you'd like to have. In the end, it's important to just be yourself, respect your date, engage the other couple in conversation, and enjoy the experience.
Good luck and happy dating!