After registration, every new eharmony member completes the Compatibility Quiz. This is a series of 70 questions that takes a deep dive into your personality, values and what's important to you in a relationship.
The quiz questions vary from straightforward topics regarding your likes and dislikes to those designed to gain insight into why you want a relationship and what role you take in a relationship. This will help eharmony find ythe members that are compatible with you and will complement your results.
What is the eharmony Compatibility Score?
Your quiz results allow us to compile your unique Personality Profile and generate an eharmony Compatibility Score that you will see on each member's profile. This score is from 60 to 140 and can give you a sense of your instant compatibility with a member. Your score is not a fixed number but will vary from profile to profile depending on your mutual compatibility.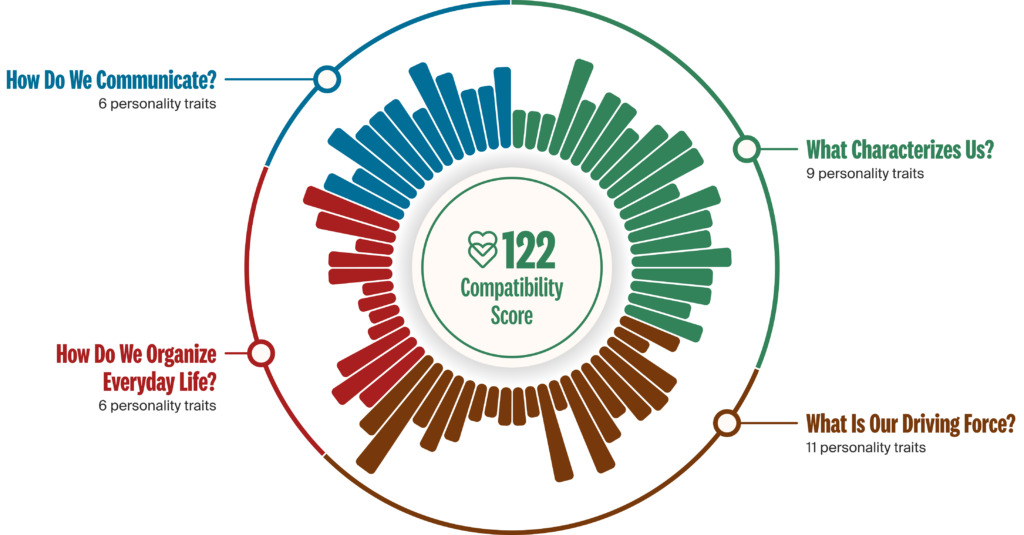 You can find your Compatibility Score in the top left corner of each member profile.
What is the eharmony Compatibility Score range and what does it mean?
But how can you tell what is a good Compatibility Score on eharmony? Our compatibility points system, which ranges from 60 to 140, is based on your and each individual member's combined Compatibility Quiz results and preferences. Overall, it can help indicate how well you and your another member will get along. Before you dive in, here is what each range of scores means.
Score: 110+
An off-the-charts result and is one of the highest eharmony Compatibility Scores! You and this member could get along extremely well and should get to know each other. If you share this Compatibility Score with someone, we highly recommend that you send them a message.
Score: 100-109
If you get a 100 or higher on your eharmony Compatibility Score scale, then we encourage you to get in touch with this member. Take a quick look at their profile and send a message about something you have in common. While this doesn't predict a flawless relationship, it's still worth it to send them a message and possibly go on a date.
Score: 60-99
You have a base-level eharmony Compatibility Score with this member. Take a look at the Compatibility Analysis and learn what you have in common. If you still think there's some potential, Like something on their profile and send a first message.
eharmony Compatibility Score: discover yours today
Now that you understand the eharmony Compatibility Score range and what it means, it's time to use this knowledge. Register, take the Compatibility Quiz and find out who's waiting for you on eharmony.