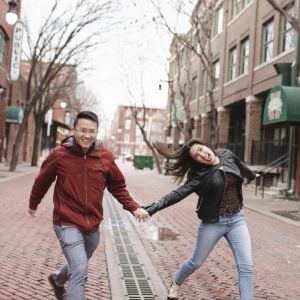 Kirsten & Dominick
Louisberg, Kansas
Engaged May 1, 2021
Kirsten joined eharmony during the pandemic at the strong suggestion from her family. The lock down gave her the final push and was so glad she did. Immediately after joining one of her matches, Dominick, captured her interest. It only took a couple of weeks of them talking to realize they really should meet in person.
Dominick signed up on a whim, and Kirsten was on the first pages of his potential matches. Just a few seconds of looking at what Kirsten had written made it eminently clear that she had a warm personality with a unique approach to life.
The First Date
After a couple weeks of chatting by text and video calls — in proper Covid fashion — they were both eager to meet in person. They met as soon as the lockdown ended, in the middle of 2020. In the first few minutes of sitting down and chatting, it became apparent that the two were hitting it off. They talked about everything from culture to family to food. Before they knew it, 9 hours had elapsed. It was safe to say they would be meeting again soon.
The Proposal
Kirsten thought she was headed to dinner with her sister, but when she looked up from her car she saw Dominick walking towards her. Though it was closed for dining, they walked to their first date restaurant where an amazing video and a carefully crafted card awaited her. Then Dominick went down on one knee and neither of them could remember exactly how she responded besides, "yes."