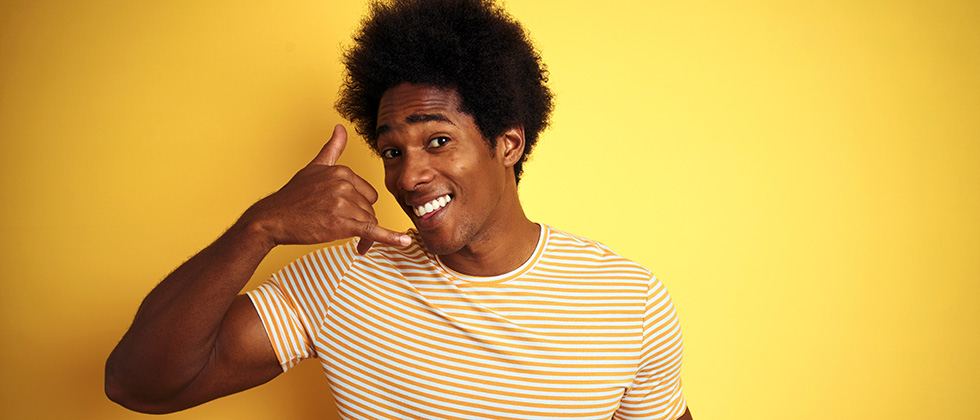 8 tips for perfecting that first phone call
When you're thinking about dating someone, you'll probably have to pick up the phone at some point – whether that's to arrange a date or just to chat. First impressions are crucial, so here's how to make a winning phone call.
Texts and emails are great but there's nothing quite like a phone call to help you get to know a person. Nervous? Here are 8 tips for handling that first phone call like a pro
With email, text and WhatsApp available, you can avoid phone calls altogether. But when it comes to dating – especially online dating – calls are still an important part of the process. After all, who wouldn't feel better about meeting someone after hearing their voice?
Even so, the first phone call can be nerve wracking. You need to make a good first impression but, unlike with an email, you can't delete anything that doesn't sound quite right.
Here are eight top tips to help you handle that first phone call – and secure the date:
1. Find a good signal spot
There's nothing worse than losing signal halfway through your conversation. Pick a spot where you know the signal is strong – or use a landline!
2. Be cheery
Try to keep the tone of your voice light and cheery. You can't rely on facial expressions so make sure your enthusiasm shines through in your voice.
3. Put the other person at ease
Let the other person know that you're happy to be speaking to them. You could try to relax them by complimenting them on their conversational skills. For example, when they ask a question, say something like 'That's a great question!' The more relaxed you are, the easier the conversation will flow.
4. Elaborate on your replies
Avoid short answers. Use the questions you're asked to tell the other person something really interesting about yourself. For example, if they ask 'How was your day?', you could reply with something like, 'It was great! I had lunch at a great sushi bar near work with a friend from school, and now I'm talking to you!' This tells the person three things about you:
You enjoy sushi
You keep in touch with old friends
You're happy to be talking to them
5. Change your answers into questions
Asking questions will help you get to know the other person – and show that you're interested in them. It'll also help keep the conversation flowing and avoid any awkward silences!
6. Remember, this isn't an interview
Remember that your conversation should be friendly and relaxed – you're not carrying out an interrogation. Don't ask questions just for the sake of it. Try to alternate questions and answers to keep the conversation balanced.
7. Know when to end the phone call
Don't keep the conversation going too long. If you feel like the pace is slowing, find a polite way to end things. Be as genuine as possible. A good phrase might be, 'Wow it's 9 already and I promised my Mum I'd give her a call. Hopefully I'll hear from you soon.' This is a valid reason and doesn't make you sound needy. Unless you've already agreed on a date, don't make a big deal about deciding when you'll talk next.
8. And finally, don't ever…
• Eat food
• Chew gum
• Flush the toilet (!)
• Watch TV
• Or make it sound like you're doing anything else
The person on the other end of the phone deserves your full attention, you don't really need to multitask by checking your emails at the same time, do you?
How it works
Your search for a great relationship has never been easier with groundbreaking overhaul of the eharmony you know and trust.