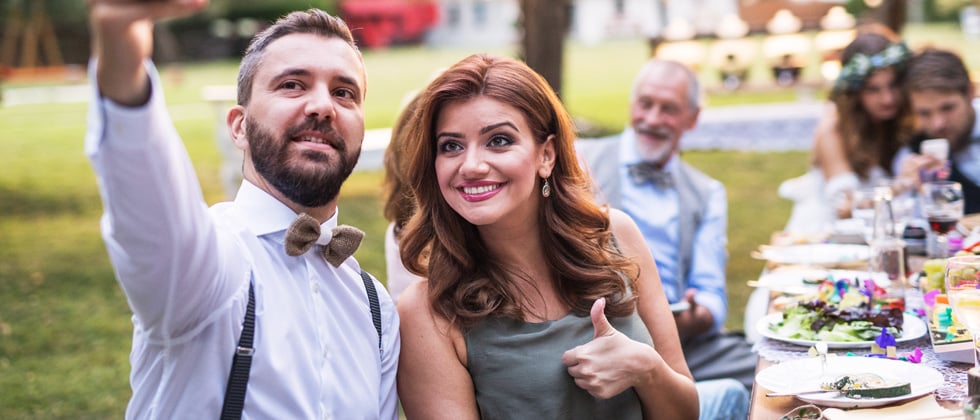 Ten Pickup Lines for a Friend's Wedding
If you find yourself at a friend's wedding without a "plus one," note that you're likely not the only one. Another solo wedding guest might just be the dance partner of your dreams.
Stay upbeat and pro-marriage — no bitterness or cynicism allowed — and be your charming self. You might even go home with plans for next Friday night.
Here are 10 pickup lines for a wedding:
1. Embrace the situation. Ask her how she knows the bride and groom. Comment on the quirky wedding cake. Talk about the couple's proposal story. Try to figure out which of you has been to the most weddings. Keep the small talk light and fun.
2. Try to get introduced by a mutual friend. Should that fail, be honest: "I asked my friend to introduce us, but she says she doesn't know you."
3. If you're close with the couple and have the opportunity to do so, make a hilarious, charming, touching speech. Then ask your new crush to dance.
4. Ask her to dance.
5. Offer to buy him/her a drink — even if it's open bar.
6. Be direct: "We might as well get to know one another. We'll probably be seeing each other at baby showers and anniversary parties."
7. If you're unsure of how to break the ice, say so: "Sorry. I can't think of a good ice breaker. Can you?"
8. Bring out those funny flirtatious lines: "Wouldn't we look cute on a wedding cake together?" "You're so beautiful I'd marry your brother just to get into your family."
9. If you're sitting together, relegated to the "singles' table," joke about sitting at the eligible table and propose that you get married just to satisfy the match-matching bride.
10. Walk her to her car or call her a taxi at the end of the night. Don't forget to get her number before she drives away.
Have you ever met anyone intriguing at a wedding?