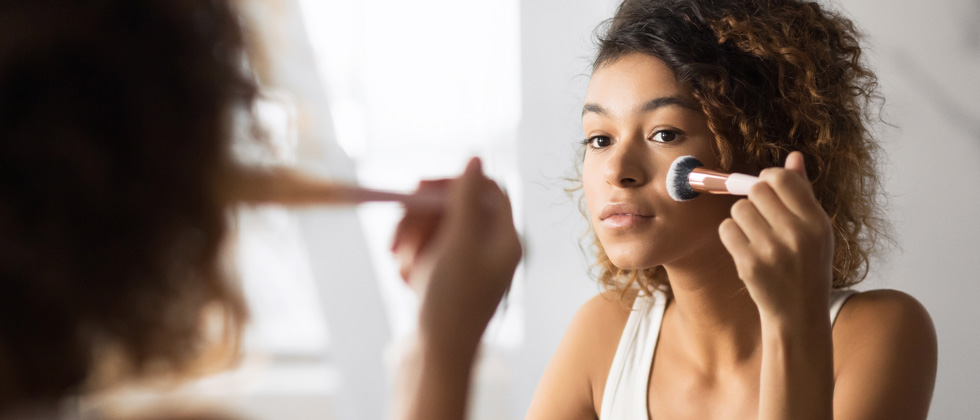 First Date Makeup Tips
We put a lot of thought into first-date wardrobe choices — putting a lot of effort into looks that say "effortless" — yet it's our faces our dates will be staring at most.
We put a lot of thought into first-date wardrobe choices — putting a lot of effort into looks that say "effortless" — yet it's our faces our dates will be staring at most.
Here are some tips on putting a natural, flawless "best face forward."
First Date Makeup: Prep
Just as you need a good bra under that shirt to look your best, you want good skin under that makeup.
Start and maintain a moisturizing, anti-aging skin-care regimen. Wear SPF daily and stay hydrated. The more diligent you are in caring for your skin, the more prepared and confident you'll be for last-minute nights out.
Prepare a smooth surface to work on by nixing any unwanted facial hair. Use a gentle hair-removal system, like Olay's new Smooth Finish Hair Removal Duo, to avoid redness and irritation. The unique two-step depilatory system for fine to medium facial hair includes a pre-treatment to protect skin.
First Date Makeup: Prime and Conceal
Your makeup look begins beneath your foundation. Prime and conceal, ensuring a perfect canvas for your first-date look.
Olay Total Effects Line and Dark Circle Minimizing Brush strategically covers shadows and brightens your eyes. The tinted under-eye moisturizer isn't just for special occasions: the anti-aging properties will help improve the youthful appearance of your peepers over time.
Prime your eyelids — especially if your eye shadow tends to run or disappear as the night goes on. It will help your makeup stay exactly where you put it.
Primer under your foundation can help minimize the appearance of pores and wrinkles by filling them, letting your makeup blend over an even surface. It also lengthens the life of your look.
Use concealer strategically, dabbing it sparingly only in trouble spots. Try to avoid a cakey look. Too make cover-up can be more distracting than the initial "flaw."
First Date Makeup: Complexion
Tip: Move on to your eyes before worrying about foundation. This way, any shadow that falls on your face can be easily wiped away without damaging the rest of your makeup.
When you do tackle that complexion, use minimal coverage the same shade as your neck, blending it well with your fingers, sponge or brush, to even out your skin tone.
Add a little color back into your face with blush on the apples of your cheeks — put a shade that mirrors your natural flush — and a light dusting of bronzer where the sun typically hits your face, along the bridge of your nose and across your forehead and chin. A swipe of bronzer just under the jaw line will give you a more defined profile.
Set your makeup with a translucent powder. And always check your made-up skin under different lighting to make sure you look as naturally flawless in the daylight as you do in poorly lit spots.
First Date Makeup: Enhance
You want your first-date makeup to represent who are you. Don't overdo it with drama — unless you happen to wear red lipstick and black eyeliner every day. A coat or two of mascara on your upper lashes, curled, will strategically frame your eyes and make you look awake.
Enhance your best feature, but do so subtly. Instead of a harsh, black-lined smoky eye, use grays and browns to define your baby blues (or browns). Use lip gloss or a lipstick just a shade or two darker than your natural lip instead of sending a "don't kiss me" message with a garish made-up mouth.
And don't distract with too much sparkle and shine. Shimmer can be alluring by candlelight, but use it sparingly.
First Date Makeup: Touch Up Discreetly
Keep touch ups relegated to ladies' rooms only. Powdering your nose in front of your date destroys the illusion of "natural" — and can seem a little high-maintenance. Just flash a confident smile and have a great time. The best makeup is the kind you can forget about once it's on.
You're beautiful. Believe it.