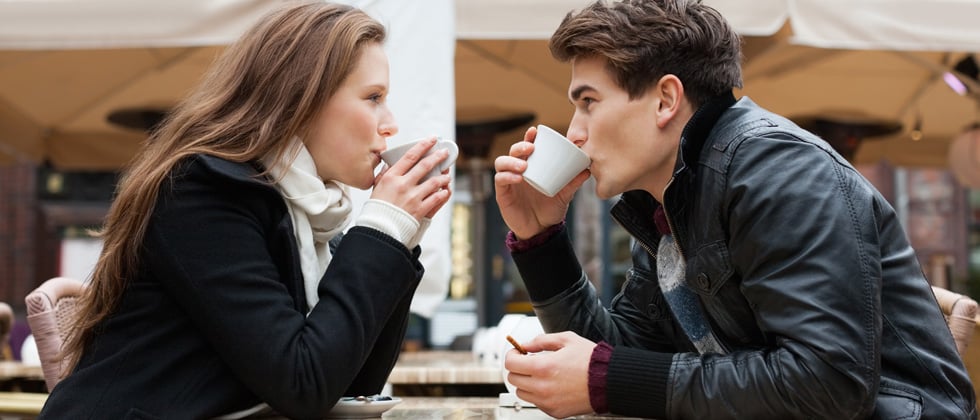 A Case for Skipping the Latte: Get Better Results By Elevating Your Coffee Dates
Want to know the four words that are sabotaging your chances of online dating success? They're not "I love to laugh" or "I feel no chemistry." They are "Want to grab coffee?" At first, the question seems harmless. "Sure!" he thinks. "We can meet at that Coffee Bean off the freeway on my way home from work."
"Why not?" she asks herself. "I'll fit it in between my yoga class and the farmer's market on Saturday."
What could be easier than setting up a coffee date? They're low cost, low risk and low effort. But they're often low return. "I have experienced approximately 750 coffee dates. My request: Kill me now," humorist Mark C. Miller recently wrote in The Huffington Post. "A coffee date is simply a first-time, in-person meeting with a potential romantic partner … usually resulting in the Three D's: disappointment, depression and despair." Okay, that's a bit dramatic. But how often do you hear about the coffee date as the launching pad for a great romance – unless the couple randomly met at Starbucks while accidentally picking up each other's pumpkin patch latte and then went on a real date somewhere else?
The catch is that we love the idea of coffee dates. If you're new to online dating and haven't quite gotten over the awkwardness of meeting strangers, the coffee date feels like a safe commitment. "All I have to do is meet this person in a public, well-lit space over a $3 hot beverage," you think. It's also easy to begrudgingly accept a coffee date with someone you're not that excited about meeting. "You should go," you tell yourself. "It's just coffee." Then you won't feel guilty crossing the person off your list.
Coffee dates are an invention designed to increase everyone's comfort level. The problem is that they end up killing romantic potential. If you're suggesting a coffee date, you're approaching the meeting from a place of caution and convenience rather than unabashed confidence that you're going to hit it off so well you'll probably be spending New Year's Eve together. They're also an easy way to quickly meet a lot of people, but they don't exactly make you feel special, if you think you're the third person to sit across from your date's "sweet little table in the corner" that afternoon. Before you know it, you've racked up a dozen coffee dates that consist of quick chats but little connection.
Then there's the date itself. Few people feel sexy charged up on caffeine in an over-conditioned Starbucks. Also, the dates usually never last more than an hour, so there's never a chance for what I call the "shift" to occur. That's when you lean back in your chair, play with your napkin and think, "Hmm … I wonder if I could like him." That's also the time when you drop the "Do you have brothers or sisters?" chatter and engage in more meaningful conversations. There's little chance to linger when three people with laptops are eyeing your table because it's the only one next to the electrical outlet.
But coffee dates serve a purpose. Dinner can seem like too long of a commitment. And although it's fun to think up creative first date ideas, do you really want to pick apples or go kayaking with someone you're not even sure you like?
So here are some tips for making them more successful:
1) If you're set on coffee, at least plan the date at an interesting café or hotel with a pretty patio or view. "I know this great place where they roast their own beans and the baristas sing opera," is a lot more tantalizing than "Well, I guess we can meet at Starbucks." I will never forget a date who promised to take me out for the "best hot chocolate in New York city." I looked up the café online and learned about the kind of chocolate they used and how they served it with homemade marshmallows. It turned out that the drink was better than the date, but the venue made an impression.
2) Consider upgrading the date to include a glass of wine, which helps everyone's first-date nerves. You can decline a Sunday afternoon coffee date by saying, "I'm free for drinks after work Tuesday," Or you can write, "I'd love to answer the six essay questions you posed in your last email, but I think it might be more fun over a glass of wine."
3) Never plan the date before 4 p.m. Again, you're meeting a potential romantic partner – not a notary. If your date has a jam-packed schedule, find a time when he or she will be more relaxed, such as after a workout. Resist squeezing in dates between hard time commitments. If he has to pick up his kid from soccer practice at 3:10 p.m. sharp, and one of you gets stuck in traffic or can't find parking, you're going to have a hard time getting the sparks going during such a compressed time slot.
4) You don't have to meet everyone you exchange a few emails with. Yes, you want to be open to meeting a wide range of people. But stop loading up your schedule with quick hits that go nowhere. Be more selective and make your first meetings count. Make a little effort. Make a little time. You'll get a lot more second dates.
What are your thoughts about the coffee date?
Sarah Elizabeth Richards is a journalist and the author of Motherhood, Rescheduled: The New Frontier of Egg Freezing and the Women Who Tried It. Her writing has appeared in The New York Times, The Wall Street Journal, Marie Claire, Elle, Cosmopolitan, Slate and Salon