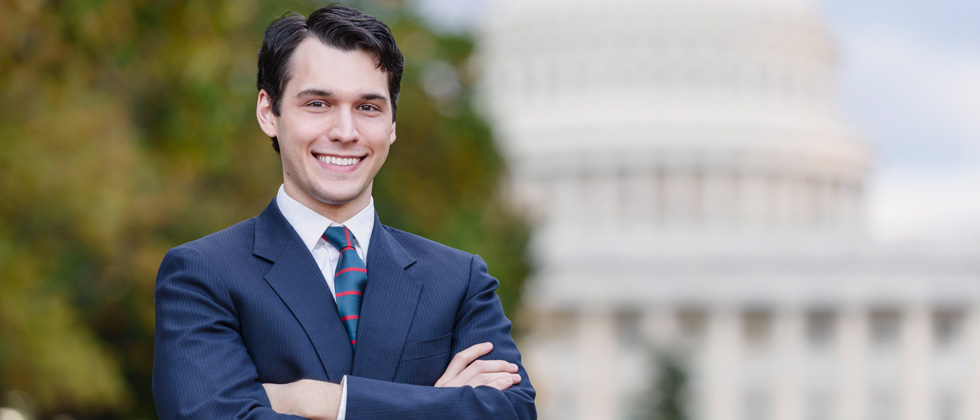 15 Reasons to Date a Politician
'Tis the season to think about voting. Not sure if you should say yes to the dinner-date offer from your cute local representative? Here are 15 reasons why you should date a politician.
1. They make great first impressions. From the firm handshakes to the clean-cut haircuts, politicians present themselves with class and confidence. They're dream dates when it comes to meet-the-parents dinners and office parties — assuming your parents' political views don't clash with his/hers completely.
2. Suit up! Your date will be well-dressed. You won't have to beg him to iron his shirt. And you might be able to use your new dating life as an excuse to buy a slightly more polished wardrobe, too.
3. They're good conversationalists. Politicians have to be able to engage in small talk with all sorts of people. They know how to look you in the eye, listen actively, and articulately engage in conversation on a number of topics. Sure, politicians can debate tough issues. But they can also chat about the little stuff, too.
4. You'll learn more about current events. Let your politician date inspire you to get more involved and invested in the decision-making processes going on around you. Ask questions. It will mean a lot to your date that you're actively interested in what he does, and you'll benefit from the wealth of knowledge.
5. They're educated — and opinionated. Someone with passionate convictions and educated opinions can be invigorating, especially if you've dated individuals with poorly formed ideas and a lazy approach to decision-making.
6. Society events. Dress up, hobnob with some powerful, influential people, sip wine and try to keep up with rapid-fire conversations and tongue-in-cheek jabs. Sometimes it's fun to be the guest of honor's arm candy.
7. Travel opportunities. When your date travels, you might have the opportunity to tag along. Those important events mentioned above? They're even more impressive when you have to cross a border to get to one.
8. That busy schedule. If you're a pretty independent person, you'll still have plenty of time to yourself when dating a politician. Fortunately, politicians are also good with scheduling things in — and you'll still be a priority.
9. They're organized. Because politicians are so busy, they're well-equipped with calendars on their smartphones — and assisted by quick-thinking assistants.
10. The spotlight. If you crave the spotlight, you're in luck. If your date is in the paper, you might be too. (If you're not into having your photo taken everywhere you go, however, this gig might not be your thing.)
11. They're charismatic. Which is way better than dull.
12. They're influential. Dating someone who has a lot of responsibility and is making decisions for the greater good can be a real turn-on if you trust their motives.
13. Debate can be fun. Tired of disagreeing with people who don't really know what they're talking about? A politician will challenge you and keep you own your toes when you start to voice your own opinions.
14. They'll aim to keep you happy. Most politicians are people-pleasers and will consider your happiness their personal success.
15. The good ones are good. Politicians have a bad reputation, mostly for the personal-life scandals that play out in the public forum. But when skeletons aren't allowed to stay in the closets, some outstanding politicians will thrive under the forced accountability. Individuals of character have nothing to hide, and you'll have nothing to be wary of.
Have you ever dated a politician? What was your experience like?