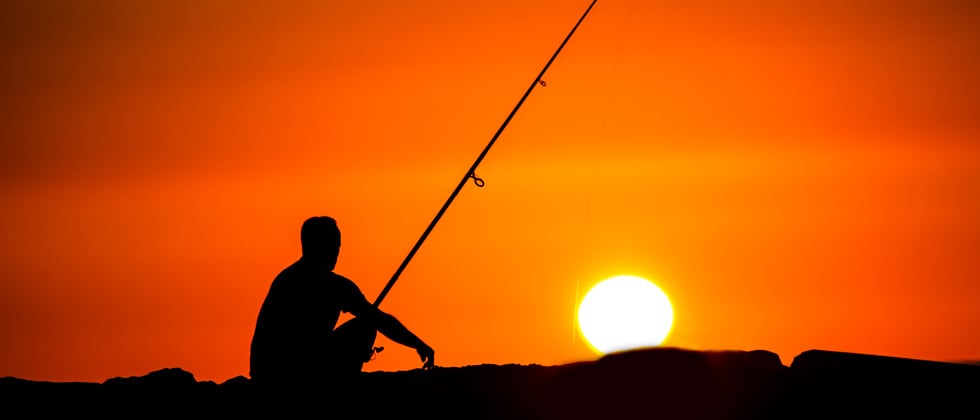 15 Reasons to Date a Fisherman
The standard joke about fishermen is that they exaggerate the size of their last catch. Sure, there are people eager to brag about their latest angling conquest or complain about the size of the one that got away.
But devoted fishermen don't do it for bragging rights. They take a Zen-like approach, enjoying the serenity, philosophizing about the artistry involved, and appreciating the experience as much as an actual catch.
If you are lucky enough to date someone dedicated to the art of fishing, you'll find a person whose qualities translate well to romantic relationships. Consider these reasons to date a fisherman (we could use the politically correct "fisherpeople," but you know that both genders apply to this discussion):
1. They are optimistic. No matter how long they fish without so much as a nibble, they're sure they'll be reeling in a fish at any moment.
2. These people have patience and lots of it. Impatient men and women wouldn't last long in this hobby.
3. Fishermen appreciate beauty. After all, they spend countless hours by streams, on lakes, and standing on seashores.
4. You'll have a hobby you can enjoy together. Whether you already fish or want to learn, you and your partner will have many hours together in peaceful, pristine environments.
5. Fishermen are not intent on outdoing someone else. Any competition is against himself and the fish. No need to worry that your partner will want to compete with you.
6. They know the best spots to enjoy nature. If you appreciate the splendor of the outdoors, you'll have someone to guide you to new places to savor.
7. Fishermen are helpful. They're willing to teach newcomers and share their wisdom.
8. They are humble. These people acknowledge the many times they've been outwitted or outlasted by an animal with a pea-sized brain.
9. Fishermen are eager to learn and grow. They know that fishing—like many aspects of life—is a process of trying to improve their craft.
10. They are concerned about the environment. Like other kinds of outdoorsmen, these people want to preserve the world's natural beauty.
11. Fishermen balance work and play. They may be hard workers, but they're always eager to leave work to hit their favorite fishing hole.
12. They are adaptable and flexible. When one approach to fishing isn't working, they're ready to try something new. That's a good perspective for relationships as well.
13. Your vocabulary will expand. Your fisherman-lover will introduce you to interesting new words, such as "jig-n-pig," "crankbait," and "leadhead."
14. You'll never lack for great movies to watch together. You can enjoy classics like "The Old Man and the Sea" with Spencer Tracy and "Man's Favorite Sport" with Rock Hudson, or thrillers like "The Perfect Storm" and "Jaws," or contemplative films like "On Golden Pond" and "Salmon Fishing in the Yemen." Even if your partner has seen "A River Runs through It" a dozen times, another viewing is well worth the time—especially together.
15. Fishermen know that good things come to those who wait. Sounds a lot like romantic love.