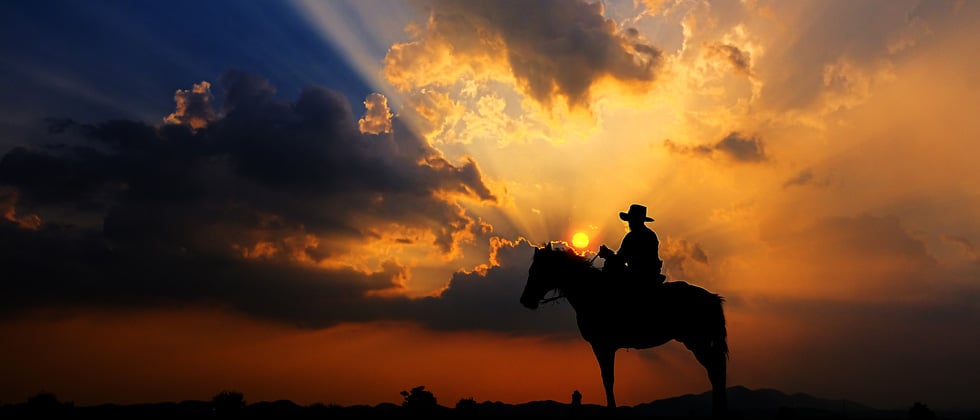 15 Reasons to Date a Cowboy
Tired of dating city slickers? Maybe it's time for some fresh country air.
Here are 15 reasons to date a cowboy:
1. Not a vegan? Neither is he.
2. You can finally justify buying those cowboy boots.
3. "Save a horse, ride a cowboy." Country music fan? You'll be living the dream.
4. Cowboys have that sexy rugged thing going on.
5. You'll be dating a real outdoorsman. Trade the city lights for starlight, and candlelight for campfires.
6. Cowboys are good with their hands — and don't mind getting a little dirty. (That said, everyone knows cowboys clean up well.)
7. Cowboys have good old-fashioned values. Your date respects his mama.
8. Like animals? Your date will likely be a dog person — and definitely a horse person.
9. That hat. And the rolled-up sleeves. Everyone loves a man with rolled-up sleeves.
10. You'll always have a date to the rodeo. (And maybe someone to cheer for/worry about while you're there.)
11. Cowboys work hard, value the respect of their peers, and take their responsibilities seriously.
12. You'll be a welcome break after a long, hard day on the ranch.
13. Cowboys work up an appetite. Whatever you make for dinner, your date will be happy to consume. (Just make sure the portions are large and the meat is present.)
14. Cowboys are strong and in shape — because they have to be. No narcissistic gym bodies here. Cowboys actually use their muscles.
15. You can stop checking those weather apps. Cowboys can read the skies.
HOW IT WORKS
Your search for a great relationship has never been easier with groundbreaking overhaul of the eharmony you know and trust.
In Nicholas Sparks' latest romance 'The Longest Ride,' Sophia (Britt Robertson) finds many reasons to fall for cool cowboy Luke (Scott Eastwood)!
See the trailer and learn more about 'The Longest Ride', in theaters April 10.
What are some other reasons to date a cowboy?
Article sources:
http://www.buzzfeed.com/sauza/10-reasons-to-date-a-cowboy#.huvyakR192
http://beefmagazine.com/blog/10-reasons-why-i-want-cowboy-son-law