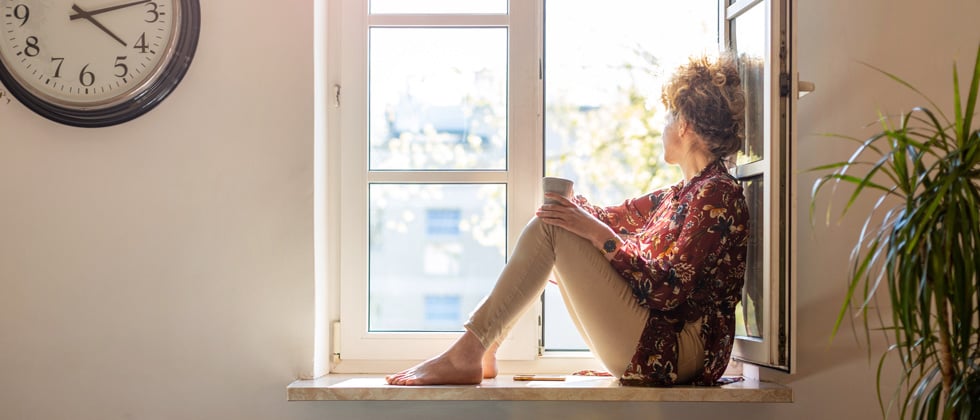 Do You Have Dating PTSD?
When I matched with a tall, seemingly-charismatic man with a big smile online, I'll be the first to admit I was a little skeptical. He looked almost too good to be true, and when he made reservations for our first date instead of leading it up to the happy hour gods, I found that old familiar voice in the back of my head that warns: "Uh, oh. This could be trouble."
A few drinks and a shared appetizer later, we were walking around, chatting and stopping to kiss underneath the light and the allure of the night, and that voice was only getting louder. By the time he walked me home, said he couldn't wait to see me again and texted me when he got home, the voice was so loud and my mind was so foggy that I could barely come up with a clever text in return.
The next few days were intense – wondering when he'd ask me out again, trying to play it cool while still seeming interested. Trying to decipher the intention between those blue iMessage bubbles and bugging my (incredibly patient) friends to help me analyze. And as it has happened more times than I'd care to admit – we never did go out again. He ended up disappearing, just as so many have before him, into what I can only imagine is a world of eligible, yet emotionally unavailable men. (Let's all avoid going there, k?)
Maybe it's getting older or how I've had my heart toughened up after four years of being on my own in one of the most notoriously single cities in the world – but this time around, I was a little appalled at my own behavior. After one great date, I let myself not only get excited, disappointed, hopeful, and fearful, all within 48 hours.
And though I would never belittle those who genuinely have suffered from post-traumatic stress disorder…I do think they're something to be said about dating PTSD. And I'm pretty sure that I have it…and you might too.
What is Dating PTSD?
It's all of that anxiety that follows a promising first encounter. The moment you become interested and you realize that this person could be different from all the rest, you automatically start hearing that voice that reminds you that this too, could not work out. It puts up your guard and makes you question your sanity. (And could run up your cell phone bill with all the screenshotting of text messages to be sent to your friends for a deeper investigation into what he really means with that emoji.)
What Causes Dating PTSD?
If you're an active dater, on and offline, you've had more than your fair share of emotional rollercoasters. You see a future, only to watch it leave. You get your hopes up, only to pick them up, and go back at it again. All of these ups and downs can put you on the edge, and hesitant to invest your life or heart into someone else again. Thus, your anxiety continues to rise and before you know it, you lose it.
How Can You Fix Dating PTSD?
By focusing on yourself and what you want, and not giving too much of your power, time or energy away too soon. You might want to jump head first into a relationship after one of those marathon dates that make him stand out from all the rest, but take a second, breathe…and get to know him. Dating PTSD usually comes from a fear that nothing else will come along again, so the pressure to make this new relationship work feels more important than it actually is. Instead of letting it consume you, remember that anyone who is truly interested in you will make that apparent. And all of the focus you're putting in to your dating anxieties, you could be using to focus on things that make you happy.
The biggest rule of thumb, straight from someone who's dating PTSD definitely gets the best of her sometimes? Reminding myself that even if it hasn't worked out in the past, I don't have to give into the triggers that make me spiral down and lose myself in the thoughts, instead of the experience. Half of the fun of falling in love is that pit in your stomach – and that voice. You don't have to be in control and really, you never are – so if you can let go and let love…you might save yourself (and your future partner) a lot of sleepless nights.
Lindsay Tigar is a 26-year-old single writer, editor, and blogger living in New York City. She started her popular dating blog, Confessions of a Love Addict, after one too many terrible dates with tall, emotionally unavailable men (her personal weakness) and is now developing a book about it, represented by the James Fitzgerald Agency. She writes for eHarmony, YourTango, REDBOOK, and more. When she isn't writing, you can find her in a boxing or yoga class, booking her next trip, sipping red wine with friends or walking her cute pup, Lucy.