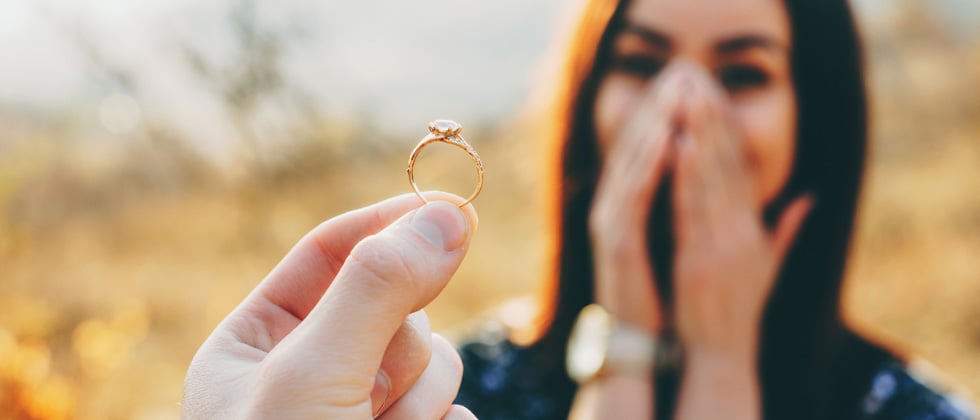 5 Engaging Ways to Propose
Whether you're ready to take the next step or are waiting for the right time or person, here are five creative and inspirational ways to propose to your potential better half.
There have been times in history when a man could ask for a woman's hand in marriage by offering her father a half-dozen stocky goats and a flagon of mead. Later on in the twentieth century, a moonlit canoe ride and a ukulele ballad usually sealed the deal, especially if the fella was lucky enough to be shipping off to a World War the following week. Between those simple and idyllic proposals and those of modern times, however, it has become custom to create an engagement experience filled with unforgettable happy tears and frequently lots of witnessing and adoring eyes.
What's a well-intentioned man to do? Try one of these five creative—not to mention romantic—brand-new ways to ask that age-old question and you'll create the kind of unforgettable experience that you're both looking for.
One of the easiest ways to propose is to share the history by recreating a similar experience of a celebrated past proposal from a close friend or family member. Find out what date her father proposed to her mother, and propose on that same day of the year, letting your girlfriend know that you wanted to choose a day that was special in her family to be special for the family the two of you are forming.
You can share the date with other relatives, too—even of great-great grandparents who are not around anymore—or perhaps of a couple you two are best friends with. You'll be showing your wife-to-be that you care about her and the people she loves, and that you want your love to be a continuation of that warmth and tradition. Similarly, you can't go wrong with proposing on a holiday. If you propose to your girlfriend on New Year's Eve, for example, you can celebrate the memory every year with champagne, fireworks and laughter. Plus, you're guaranteed to have friends and relatives around to watch the event! Valentine's Day is great, too, because it allows you to invite her to a romantic setting, and yet still catch her by surprise when you spring the ring on her.
For guys with bad memories for dates, picking a holiday is great! You'll never forget the anniversary of the day you proposed, because every store-bought calendar will have it listed. If you're an extrovert and want everyone, including hundreds of strangers, to know how much you love your soon-to-be-fiancée, you can't go wrong with a public spectacle.
Of course you can always spring the money to spell out "LUANNE – LUV YA – MARRY ME?" on the Jumbotron at your local baseball diamond. But you can also have the football players at your local high school game do the proposing for you, as eHarmony's dream date winner Chip did when he proposed to his now-wife Rachel. As a bonus, the cheerleaders would probably be willing to do the work for you as well.
Other unexpected public places work just as well, like the subway or a daily bus line. If you're more the rock-and-roll type, you might make the next KISS concert special for everyone by seeing if you can get the band to propose for you (well, maybe that's more of a Ben Folds Five thing, but a lot of bands will be happy to do this for you if you can just get in contact with them before the show).
If you want to propose publicly but efficiently, do it at an actual wedding reception! Clink a glass, give a toast to the bride and groom, and then give a toast to the woman you love. All the friends and family will be there, and in this case, your girlfriend will already be pumped up by all the positive marriage energy in the room. She'll definitely say yes, as long as the timing is right—but one important note: don't do it too soon after the wedding cake has been cut (you want to let the married couple have their special moment) but not so late that people are passing out from too much champagne. If your girlfriend loves surprises, there are plenty of ways to get creative and have fun with your proposal.
You can have an Easter Egg hunt, and direct her to the egg she'll "find" that has a ring in it when she opens it. You can hide your ring box behind a tree stump, or buried in the snow, and "discover" it while you both are on a walk. Make sure there's a landmark to help you remember where it is! If you're good at sleight of hand, you can put a lump of coal in your hand, pretend to pressurize it, and reveal the diamond ring that the coal created with your manly strength. And if you want to go for a classic surprise, your ring can always be the prize at the bottom of your girlfriend's Cracker Jack® box—just make sure that she doesn't accidentally eat it.
If your girlfriend loves a practical joke, you can have an exciting proposal by doing a fake out, where you present a lousy and definitely disappointing proposal, then reveal yourself to be truly thoughtful and romantic by delivering the real thing. First you'll want to get down on your knee and offer her the cheapest, tawdriest tin ring you can find—then, when she's about to fume at you but instead tries to hide her disappointment, pull out the big 14-karat beauty. Or start to mumble a scattered, unromantic proposal to her in an elevator as you're going up. Make sure when the elevator finally opens, and you pop the question, all her friends and family are there at the top floor with streamers and balloons!
Of course, there's nothing wrong with a classic, simple and romantic gesture to make your proposal magical. If she's a hard worker, show up at her work with roses, wearing a tuxedo, and get down on one knee in front of the whole staff. Or leave a note on her car as it sits in her parking garage, with a flower and instructions to meet you at a special location. This way you can arrange to have all the special people in her life there, and set everything up to make the proposal perfect!
If you find more romance in a setting for two, there's nothing more classically romantic than proposing in front of a natural wonder or a famous historical icon. Whether you're at the Grand Canyon, a Hawaiian beach, or the Eiffel Tower (as long as you avoid gusty winds and tidal waves), she's sure to be dazzled and at ease, the best state of mind for a well-received proposal. And for the rest of your lives, this place will be a special memory, a place to buy picture books of to commemorate your special moment, a place from where people can send you postcards, and a destination you can return to that will renew your vows and celebrate the relationship bonds that you will develop through the years.
If you want to harness the power of memory right now in a more personal way take her to the place where you had your first date, or where you first met, and tell her how much she has changed your life for the better. Tell her that the first time you were there with her, you left as merely friends, but this time, you want to leave with her as your fiancée. No matter what your proposal plan, go the extra mile to make the moment memorable and special for both of you.
And don't worry, nervousness and slight awkwardness is par for the course when it comes to creating this particular good memory, but so long that you've employed planning and cool determination to pull it off, have you've chosen the right girl, you'll get the excited "Yes!" answer you are looking for.